Part of our continuing series of hardware reviews
This review is of Allo.Com's MegaPBX (http://www.allo.com/megapbx-line.html).
As Wikipedia explains
Historically, the expense of full-fledged PBX systems has put them out of reach of small businesses and individuals. However, since the 1990s many small, consumer-grade and consumer-size PBXs have become available. These systems are not comparable in size, robustness or flexibility to commercial-grade PBXs, but still provide many features.
That was until 1999 when Mark Spencer showed the world that a low cost VoIP PBX was possible most PBXs were limited to large companies due to the high cost of ownership. Why do people need a PBX? Originally it was to reduce cost of internal calls, and it allows multiple phones to share a limited number of lines to the outside world and to share resources (conference bridges, voicemail, etc.).
With this in mind I reviewed the Allo MegaPBX PRI.
Specs:
First a little about the Allow MegaPBX offerings. There are 4 models that are based on the Asterisk core, several models are available:
All IP (SIP only)
1 PRI Port (and SIP)
1 PRI + 2 FXS ports for FAX machines only (and SIP)
4 BRI Ports (coming soon)
All models support up to 250 extensions and 60 simultaneous calls, 50 people conference room with full features (invite, schedule, email, kick, mute…). All of the systems seem to have both Fax and voice-mail to E-mail built-in.
Hands on the product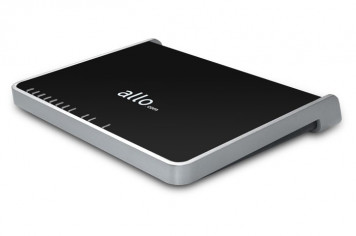 The PBX looks very nice. The clean and high-tech design look, making it a very professional looking device.
My only complaint about the look is that the front panel is marked in a way that it is different to what is shown in the User Manual.
The User Manual shows the Notification LEDs as:

While the actual device is very different:
So Led 8 does not exist on the PBX, and the numbers 1, 2, 3, and 4 appear twice (white on black, and black on white circle). Making the labels a little confusing.
But, to be fair, This may have been a factor of the preview unit that I tested as the photos of the device on the site do not show this problem and the actual functions match the layout in the manual and it is just the labels that were confusing.
Installation
Installing the unit is very easy, and the user interface is straight forward.
Frequently I find devices where the ports are hard to figure out or configure and thus a real pain, here everything was self explanatory even without opening the user guide. As you can see here all of the ports are nice and well labeled:
From the left Here you can see where the power cable plugs-in, the reset button, both WAN and LAN cables, Memory card, and PRI ports. All very nice and straight forward.
User Interface
If you would like to try the User Interface you can Access to GUI Demo – Click Here or click on the image below
Username: admin
Password: admin
The Configuration Wizard
The setup wizard  is very clear and easy to use, the flow and logic are easy for those with limited knowledge to get the PBX up and running with minimal pain. In fact it is easier than some GUIs in terms of setup. The steps it walks you through are logical and in the appropriate order (unlike other more complex systems that lack this kind of setup wizard).
You are prompted to create SIP phone groups, SIP trunks, PRI trunks all in a very logical manner.
The Dialout rules seem to follow the same conventions that Asterisk usually uses.

But there is an amusing spelling error on this page:
Enable Ceasing Trunk (?)
On the unit I tested it has the help note: To Enable/Disable to seize the line and dial out, this does not appear on the Internet test system.
Somehow seize became Ceasing.
The rest of the wizard flows nicely and is mostly easy to follow. Things like time of day routing could use a bit more help in the way of drop-down menus or a help mouse-over that explains the valid options. Unfortunately these options are not explained in the User's Manual at all.
Minus:
For some reason this PBX does not use the normal Asterisk built in mail server, thus requiring that you configure a mail server to send alerts. I am not sure how this would work with a GMail or other web mail account but it does not seem to have all the requisite setting options. With GMail being very common for the small office this is a major oversight.
The system is designed for users with a minimal understanding of what they are doing while limiting the help available. Somehow this seems to miss the point of a DIY PBX. You need better documentation or explanations that the short one-liners in the GUI.
There seems to be no option for using IAX2, so they must be planning this for single stand-alone offices. Given the options for branch locations or IAX2 enabled phones / soft phones, this seems like an oversight.
I also did not see anyway to connect to the various add-ons or additional services that might be useful to an office:
Door phone / release
Humbug or other analytics, fraud detection, or call accounting.
Special Kudos:
Now one feature that I really like is that there are some basic system tools to help your testing. Ping Test and Traceroute are usually left to the CLI or Linux level of a PBX, here they are right in the GUI. This protects the likely administrator from needing to know the appropriate Linux commands, which makes sense given the audience for this unit.
Final Result
All-in-all I liked working with the unit once I stopped thinking like straight, large, complex Asterisk PBX, for someone used to working with the Asterisk CLI or even the PBX in a Flash GUI there will be significant frustration that you do not have all of your expected options. One of the most blatant is that the system does not have the capacity store large quantities of CDRs on the PBX, but has options to store them on a Radius or FTP server but not the included SD card. Configuring these are part of the wizard but require that the user have some knowledge of what they are doing (as well as access to a Radius or FTP server).
Who should use this PBX?
This PBX is designed for small office or home use and for those with minimal pre-knowledge of the workings
Overall mark: 7.5 out of 10
The wizard is easy to use, but requires that users know about their other servers (if any) while limiting access to the underlying system that advanced users would expect.